Learn More About Why We Advocate For Awareness
Our Story
My name is James Hendry. I started the WEEP & Recover movement. I wish I did not have to, but my own personal loss has propelled me to share this story and educate others in hopes of preventing another tragic loss of a loved one.
WEEP & Recover stands for West Nile * Education * Eradication * Prevention and Recover. We are a non-profit organization formed to create the discussion and provide education on how to prevent mosquito borne disease. Please read my reason for creating WEEP by reading Phillip's Story below. Please feel free to share your stories with us and we join forces to WEEP & Recover together.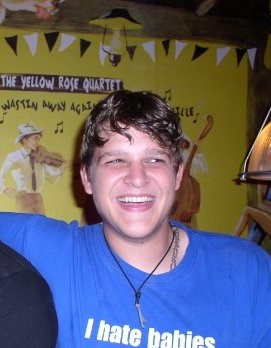 Hello, my name is Phillip Hendry.  I was born on October 26th, 1990 in Laurel Mississippi.  I attended and graduated from Richton High School in May of 2009.  I was surely not the best student in High School but when I graduated you would have thought I was the valedictorian of my class.  In the fall of 2009, I attended Jones County Junior College in Ellisville Mississippi to study computer technology.  Even though I loved electronics, computers and video games, college did not hold my interest.  So with very little discussion with my parents I dropped out and went to work in a steel fabrication business in Hattiesburg Mississippi.
Life was pretty good for me.  I was living in Hattiesburg, hanging out with my sister and her husband and learning to wrestle.  Aside from a computer, that was my passion, so with the help of a friend named Matt, that I met at work, we practiced "running the ropes" and working out.  I got a real girl friend, a 2007 Grand Prix and life was really good.  The steel fabrication work also encouraged me to go back to college and continue my education.
I had big dreams and it seemed that after Christmas I would get back on track in college and pursue my education.  I had a talk with my Dad, and he told me I had made a man's decision to drop out and go to work and that the next semester of school would be on me before he would help out with anymore student loans.
It was early December and I had just turned nineteen at the end of October.  The Swine flu was raging and I was planning for a big Christmas.  I started feeling bad with an upset stomach, fatigue and aching.  After a couple of immediate care visits I ended up at the Forrest County General Hospital Emergency Room.  I was sent home with pneumonia in both lungs and an inhaler and Tami flu.  From that point on I felt really bad and could barely talk. A few days later I crashed and became non-responsive and was transported by ambulance back to the Forrest General ER.  When my dad got there about 2:20 my blood pressure was 110/10 and I was on oxygen.  Dad came in and I could tell he was scared.  He tried several times to tell me he loved me but I could not hear him.  He then pointed at his eye, his heart and me and I knew he was saying I love you, Phillip.  Then with all the strength in me I shouted out I love you, Dad!
They took me to ICU, where I spent ten days on a ventilator.  I got excellent care from many great healthcare providers.  I started breathing over the ventilator about two days before Christmas and the doctors told my family I was going to be making it thru but I would have to stay in the hospital for an extended period.  It seemed my family and I had dodged the bullet that others had not.  I was going to live.  Then on Christmas Day night about 11:00 PM the nurse came in to check me and I was gone.  My brain swelled and I was now brain dead.  The doctors told my family on Sunday what had happened and then on December 28th everyone came in and said goodbye and I was unhooked from life support.  I went to Heaven that morning and that's where I am now.  I'm telling this story through my Dad so that everyone understands.
The evening of my visitation moments before it started, the ICU physician called my father with the CDC blood results.  I had contracted and died of West Nile Virus.  A mosquito bite in December took my life.  Not Swine Flu, a mosquito carrying a virus killed me.  Everyone in Richton came to my service and all my classmates.  Dad delivered my Eulogy and I was buried on New Year's Eve late in the evening of 2009 with a Big Blue Moon rising.  That's the short story of the last few months of my life.  Please help us fight against this disease so that others won't suffer my fate.  Thank You from the bottom of my heart- Phillip.